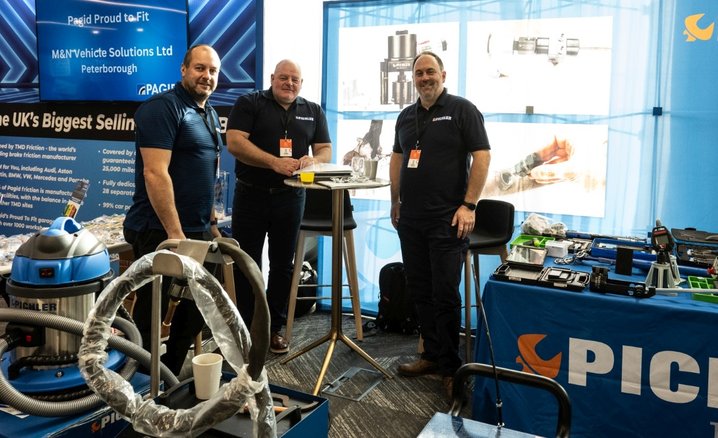 ---
Pichler Tools sees benefits of The Blend
17 Oct 2023, 3 p.m.
---
Specialist supplier Pichler Tools enjoyed a busy day supporting The Blend on Saturday 7th October.
Like last year, The Blend – management system Garage Hive's annual conference – was held at Birmingham's Eastside Rooms but this year, visitor numbers swelled by over 40% to more than 330 delegates.
"We were really pleased to be asked to support The Blend again," said Steve Prince, Managing Director at Pichler Tools UK. "We didn't hesitate; it's a unique event in being very 'business-focused' and attracts many of the best independent garages in the UK."
The Pichler Tools team arrived on Friday afternoon, setting up the stand ahead of the conference, before meeting garage customers in the evening.
"We were just busy right the way through," said Steve. "After catching up with those that came the evening before, garages were on the stand from 8am on the Saturday.
"There were lots of chances to talk to people in between the conference sessions and over the lunch break, it didn't really quieten down until after 6pm."
The Pichler Tools stand showcased many best-selling products including the automatic brake bleeder, digital brake fluid tester, workshop heat inductor, NOx sensor removal kit, suspension arm lever, coil spring compressor, pressure testing kit and more.
A wide range of the wheel bearing removal and ball joint splitting tools were on show too, alongside signature 'problem solvers' like the injector removal kits. The Pichler Tools team was able to answer many questions and take some orders throughout a busy day.
"We were delighted so many garages came to see us," said Steve. "Our tools and equipment all either boost workshop productivity by making processes faster, safer and more reliable or solve problems by helping complete jobs that might otherwise not be possible so it all fits in well with the ethos of The Blend."
Some of the Pichler Tools team has since spent the following week undertaking extended specialist product training in Sweden. Garages wishing to find out more can visit www.pichler-tools.uk or follow updates on Facebook www.facebook.com/PichlerToolsLtd.
---