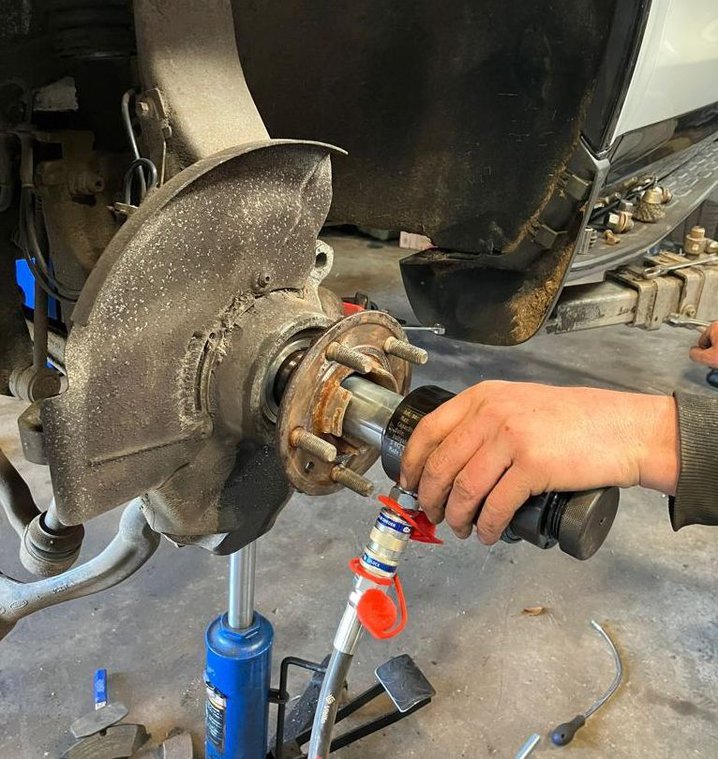 ---
Pichler Tools beats book time by 74%
14 Apr 2023, noon
---
The owner of a Worcester-based independent garage has left high-praise for Pichler Tools after its new hydraulic wheel bearing removal kit reduced the time spent replacing a seized wheel bearing on a Land Rover Discovery 5 by nearly three quarters.
With a book time of 1.3 hours, Dan Baines, owner of Midland Land Rover Engineers, put his recently acquired tools to work on the front wheel bearing of a Discovery 5 and completed a professional repair within 20 minutes.
Thanks to its innovative design, the wheel bearing kit allows technicians to work directly on the vehicle with minimal strip down needed for access.
"This is a great bit of kit that actually does what it says on the tin with ease," said Dan. "There are lots of ball joints on Disco 5 but this kit made the process so much faster because you can do the job on the car without complete disassembly."
The Pichler Tools' kit comprises a 22-ton hydraulic cylinder which can also be used for the removal of seized drive shafts, bushes and ball joints – all while still on the vehicle. The cylinder can be used with a manual hydraulic foot pump or pneumatic pump.
Dan also added a Pichler Tools 4.5 ton ball joint splitter to his kit, allowing him to quickly and easily press-out tapered ball joints without any damage to the rubber boot or thread.
"This is the ultimate kit for the job," said Dan. "It gets the work done so much faster and I can still charge book time, so it's a profitable investment. It's hassle free too; if I'd have done that wheel bearing in a press, chances are the aluminium knuckle would have snapped and I'd be liable for the extra cost."
Pichler's hydraulic wheel bearing removal kits have been developed for generation 1, 2 and 3 type wheel bearings. Kits can be tailored to the work requirements of the garage to boost efficiency.
"Dan can't wait for the next bearing job to be booked in," said Richard Hawksbee, Regional Sales Manager at Pichler Tools. "It's always great to see how pleased customers are with the speed, ease and reliability we can bring to what can otherwise be 'problem jobs' for garages."
For more information about Pichler Tools please visit www.pichler-tools.uk or call 01335 360759.
---