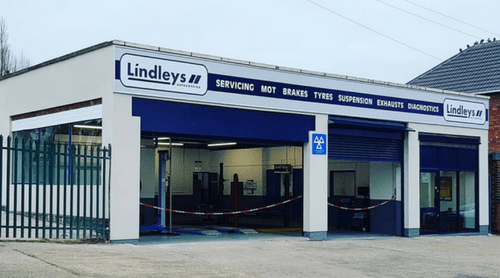 ---
Lindleys Autocentres find benefits in Pichler Tools
9 Mar 2023, 1 p.m.
---
Specialist tools supplier Pichler Tools has seen business grow significantly in recent years, largely thanks to developing and maintaining long term relationships with its independent garage customer base.
Lindleys Autocentres is a prime example; they started using Pichler Tools many years ago back when it was a single site garage run by father and son team David and Alex Lindley.
"We were doing a lot of complex mechanical work, engine rebuilds and specialist repairs in those days," said Alex Lindley, Director of Lindleys Autocentres. "We first discovered Pichler's injector removal tools and they were just immediately far better than what we'd been using and saved us a lot of time."
Fast-forward to the present and progress at Lindleys Autocentres has been dramatic. Now with 10 garage sites around Nottingham, Lindleys has changed to focus on faster-moving work like MOT, servicing, tyres and braking.
All the sites have heavy duty 3.9kW Pichler Tools Workshop 300 Heat Inductors which Alex describes as a 'game changer'.
"We use the heat inductors all the time," said Alex. "They removed the workshop risks and issues around storing and using oxy-acetylene.
"They have been really reliable and pay for themselves, delivering fast controlled heat very accurately."
Lindleys Autocentres also have Pichler Tools' Universal Automatic Brake Bleeders, Hydraulic Coil Spring Compressor and Universal Wheel Bearing Removal Kits at each site too.
"Their brake bleeder just makes the job quicker and easier as it handles everything," said Alex. "We use Pichler's brake fluid tester to identify when the fluid needs changing as part of interval servicing and it's something customers appreciate."
Alex describes coil spring compression as 'the scariest job we do in the garage' but technicians trust the safety features within the Pichler system. The renowned wheel bearing kits save hours of wasted labour time, often beating 'book times' significantly.
Pichler Tools estimates the investment made in their tools by each Lindley's site is in the region of £10,000 so for many garages the expenditure requires serious consideration.
"There's cheaper stuff available but we need workshop tools and equipment we can trust as we're working this kit very hard," said Alex. "Pichler Tools quality has been proved again and again to be exceptional – the best – and we rely on this.
"The customer service from Steve and the team at Pichler Tools has also been excellent."
For Pichler Tools, the biggest challenge remains keeping garages updated and aware of a huge range that's growing fast.
"We're delighted to support David, Alex and the team at Lindleys Autocentres," said Steve Prince, Managing Director at Pichler Tools UK. "We tend to get positive reactions from garages that see the products, then once they start to buy from us, they see the benefits with time savings and improved safety so they fortunately do tend to keep coming back."
Steve says Pichler Tools aim to keep 'getting the message out' so fewer garages discovering the range say 'we didn't realise there was a tool for that job'.
For all the latest information from Pichler Tools, please visit https://www.pichler-tools.uk/ or opt in for regular email updates on new products and time-saving tips at http://eepurl.com/dtsIXr.
---